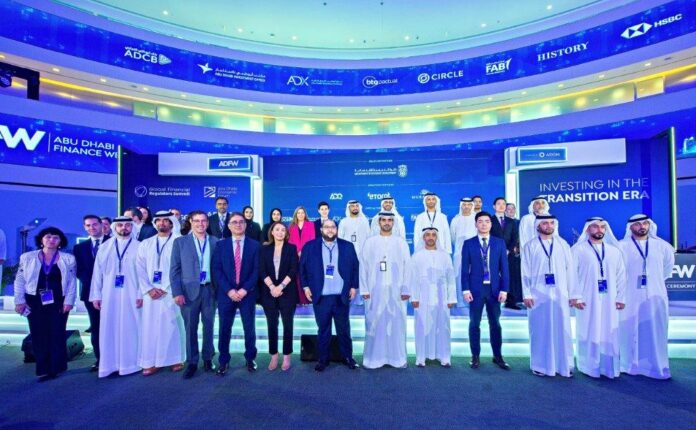 Abu Dhabi Global Market (ADGM), the international financial centre of UAE's capital, revealed at a special event, 25 leading UAE entities and global firms as partners who are set to support the upcoming Abu Dhabi flagship financial event series, Abu Dhabi Finance Week (ADFW). The upcoming event is set to run from 27th to 30th November 2023, under the patronage of His Highness Sheikh Khaled bin Mohamed bin Zayed Al Nahyan, the Crown Prince of Abu Dhabi, and Chairman of the Executive Council.
The event gathered senior VIPs, representatives from government entities, leaders of global and regional organisations and media, unveiling world-class strategic and official partners of ADFW 2023. With the announcement of its second edition, ADFW has successfully gathered dozens of key entities that will be associated with this major event series, including support partners and theme partners that were welcomed during the event with an official signing ceremony.
Showcasing its ongoing and strategic support to this major and global event, the Abu Dhabi Department of Economic Development (ADDED), will be the 'Headline Partner' of the 2023 edition of ADFW. ADDED is joined by other leading Abu Dhabi entities as strategic and official partners namely, Abu Dhabi Development Holding Company (ADQ), Abu Dhabi Investment Office (ADIO), Abu Dhabi Exchange (ADX), Abu Dhabi Commercial Bank (ADCB), Department of Culture and Tourism (DCT), Mubadala, Etihad Airways and First Abu Dhabi Bank (FAB). The list also includes a group of international brands, such as eToro, HSBC Bank, Huawei, Banco BTG Actual, Mastercard and Circle.
On this occasion, Salem Mohammed Al Darei, CEO of ADGM Authority said, "We are proud to witness the remarkable progress and attention that the upcoming second edition of Abu Dhabi Finance Week has achieved and received, with top international partners and speakers. We are excited to welcome a stellar group of financial experts and professionals from the UAE, the MENA region and every corner of the world. ADFW acts as a strategic platform to push Abu Dhabi's economic agenda, creating a unified effort to bolster the emirate's position as a financial powerhouse. We are grateful to the Abu Dhabi Department of Economic Development for joining hands as Headline Partners for ADFW and also appreciate the official, strategic, media and other partners for their contribution in achieving the many milestones for Abu Dhabi through ADFW."
Staged across five major events in November this year, ADFW 2023 is set to host over 10,000 business leaders, 3,500+ top financial firms, industry experts, policymakers, regulators, investors and bankers from over 100 countries, representing more than USD 15 trillion of assets under management. Financial market leaders will gather to initiate in-depth conversations around 'Investing in the Transition Era', ADFW's theme for 2023, which will focus on the economic, technological and energy transitions set to dominate the next decade of global finance and world economies.
ADFW is currently registering attendee interest and will be open for registration in the coming weeks. For more information on ADFW and to register your interest, visit Abu Dhabi Finance Week (ADFW).