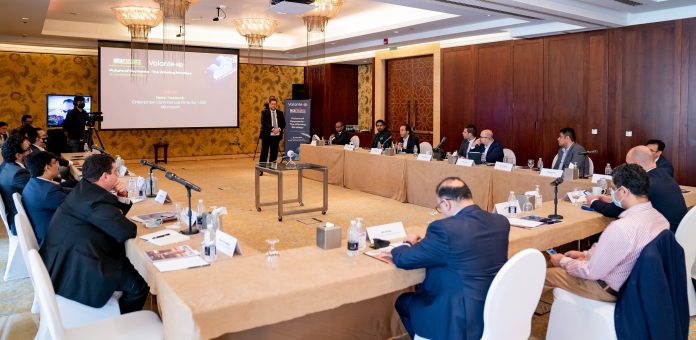 Top bank leaders gathered for a roundtable discussion held on June 16, 2021, at the Ritz Carlton, Jumeirah Beach Resort in Dubai, hosted by Volante Technologies in cooperation with MEA Finance Magazine, to discuss issues around the regional payments environment.
Fourteen banking and payments leaders with five top executives from Volante Technologies and Microsoft shared their thoughts on the main topic of "The Future of Payments, The Winning Strategy", held across two sessions, the first of which being," Smart Modernisation with Cloud and PaaS (Payments-as-a-Service)" then followed by the second session, "The Path to Value for Instant Payments".
Participating were Afzal Khanani from ADIB, David Aldred from Citi, Prasad Mopidevi and Ali Imran from Commercial Bank of Dubai, Murali Krishna from Emirates NBD, Salim Awan from Magnati, Kartik Taneja, Nzaar Ihsan and Saurabh Jain from Mashreq and Sameer Nemazie from Standard Chartered Bank. Also, on the panel of speakers were Naim Yazbeck from Microsoft as well as Onur Ozan and Alaa AlRousan from SWIFT, the world's largest interbank electronic payments messaging system. At the roundtable panel representing Volante Technologies were Houssam Chaker, Vivek Puri, Tushar Guar and Ajay Singh Pundir.
The debate was enlightening and enthusiastic with panelists exchanging up to the minute insights on the current position and future prospects for retail and corporate payments and receivables in the Middle East. Key issues were raised and debated with much focus on central areas of concern and interest that included:
The increasing importance of Cloud Infrastructure in payments, how it is bringing unique opportunities for innovation, agility and security.
How payment providers will move to leverage the "payment as a service" trend for fast payments and to launch new services and open new and underserved market areas.
The regulatory environment and the role of the regulator in the development of payments.
The payment ecosystem in the middle east was analysed, with exchanges on how behaviour and the adoption of new methods in both in retail and corporate payments have been boosted and changed following the Covid-19 pandemic.
How collaboration as opposed to competition with fintech will benefit financial services clients as well and the banks and the fintechs themselves.
The debate was hearty, informative and the occasion enjoyed by all participants and will be comprehensively covered in the August 2021 magazine issue MEA Finance magazine and on the MEA Finance website- www.mea-finance.com
To know more about Volante Technologies, visit www.volantetech.com/middle-east-instant-payments